CitySpeak Interview with Jeff Syracuse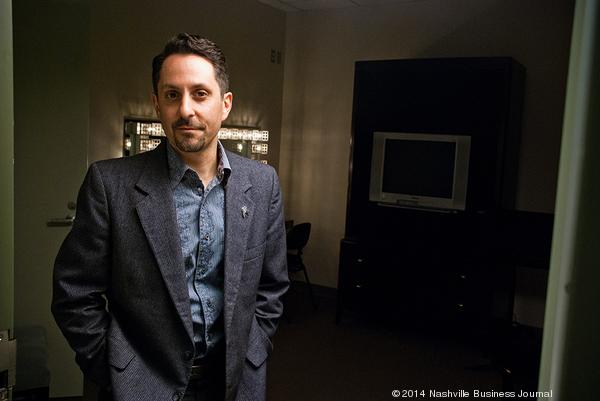 This past spring I met up with Jeff Syracuse at Phatbites Deli in Downtown Donelson, a community roughly 10 minutes east of Downtown Nashville. Phatbites is the newest addition to Downtown Donelson and it was the perfect juxtaposition. One of the most pulled together guys I have ever met (I've never seen him break a sweat juggling his many leadership responsibilities), surrounded by graffiti and hard-core hip hop thumping in the background. I struggled to hide my discomfort created by some of the adult lyrics; the vibe wasn't what I expected from a suburban deli. Jeff however stayed cool and calm. I guess that's what you get from a seasoned BMI - Music Row manager who is constantly rubbing shoulders with Blues and R&B greats. A cool, "Hey man, can you turn the music down a bit? Thanks man,'" to the tatted guy behind the counter and the interview was underway.
Perhaps the eclectic and unexpected vibe of Phatbites is what made Jeff feel so at home that day. It's the type of local business that Jeff hopes Downtown Donelson will attract more of. That laser sharp vision is what has earned Jeff the trust of Donelson residents and various leadership positions in the community. Perhaps that vision will get him elected as District 15 Councilman. Whatever "it" is, it has transformed the image of Donelson. Donelson has self-identified as 'hip' and literally thousands of Nashvillians want in. Well, Jeff Syracuse had a little bit to do with that. So I was curious, what was his role in Donelson's evolution, and what could others learn from his experience? So I took out my pen and paper (more like my iPhone) and learned a thing or two about leadership and the future of Donelson...
Jeff, the city is always speaking. What is it saying to you?
Well, the growth of Donelson and Nashville is incredible. And Donelson has great energy. Donelson is also growing in diversity, and with younger people and families; we're definitely seeing that wave of growth from Downtown.
Like many Nashvillians, Jeff is not originally from here; he's from Buffalo New York. His military upbringing caused his family to settle in Atlanta. Schooling kept him in the south, where he eventually landed at Middle Tennessee State University in Murfreesboro, TN. He stayed in the Middle Tennessee region and settled in Nashville. It was as a new home owner in Donelson that Jeff got his first taste of civic engagement.
How did you get involved in civic life in Nashville?
My family has always been civically involved, so I guess you can say it's in my blood. But it really started when I moved to Donelson when four days after moving in, a horrible crime happened on my street. It was the police and ambulance commotion that brought me face to face with my new neighbors on the street. After that incident I attended a neighborhood meeting about the crime and a proposed development. So I go to the meeting, and I'm the youngest person there right. And someone stands up and says "We want to start a neighborhood watch. Who knows how to use a computer?" So people are looking around, and I slowly raise my hand, and that was it – a neighborhood watch was formed!
It grew from a neighborhood watch to a bona-fide neighborhood association. It became a way for people to connect and get to know each other. The very first block party we had, over 100 people showed up. More than 100 people were paying association dues. That helped us complete beautification projects. So that's how it all started; very grassroots and proactive.
For some, leading a neighborhood association would be the last notch in the leadership belt; however, for Jeff it was just the beginning. To date Jeff has served as president of the Donelson – Hermitage Chamber, the Donelson Gateway Project, Friends of Two Rivers Mansion, and served as a founding member of Hip Donelson. He also serves as Co-Chair of the NashvilleNext Community Engagement Committee – a committee guiding public engagement during the city's 25 year comprehensive plan process. Did I mention the guy works a full-time job?
LESSON #1: DELEGATE AND LET GO
How do you juggle all the leadership positions?
It's a struggle to juggle! One of my strengths is I can juggle very well, but I also delegate very well. I've been able to attract some solid community leaders, and when I see talent I immediately know how someone can help. I also recognize right away, that when you start something, at some point it must spread its wings. So in everything I do, I prepare for the day when I can step away and let things move forward without me. For example, Hip Donelson now has over twelve thousand members on social media. But I tapped another community leader, Frank Trew, andhe successfully ran with it. And I've watched it grow wings and fly. Now, I can move on to other endeavors and know that what I've done will sustain.
LESSON #2: THINK BROAD AND STAY ON COURSE
Having worked with other community leaders in Donelson, what do you think motivates people to get involved?
You have to sell people the benefits of (getting involved). People also have to see tangible results, and then they are more willing to get involved. So for neighborhood leaders out there, stay the course, you can inspire people, especially if the course is a positive one. And for younger leaders out there, your neighborhood could be looking for new and fresh leadership. It was definitely timing for me; it may be about timing for others out there.
Growth will be all about timing for Donelson. Only minutes away from Downtown Nashville, Donelson is easily accessible by major interstates, and is near the Nashville International Airport. It boasts historic neighborhoods – some reaching sixty plus years in existence - and a growing set of young families and professionals. Still the community lacks the type investment that the Donelson Hipsters desire. Jeff is putting much of his hope into Downtown Donelson; the area near the Music City Star train station at the cross roads of old and new Lebanon Pikes. It's home to Phatbites Deli, and for Jeff, it's Donelson's answer for more density and mixed use development. Only time will tell if the investment will come.
Donelson is a great place. People were calling it the best kept secret. But if you want more energy and investment, you can't be a secret anymore. You have to define what you are and create that. Planning was helpful in coining the area "Downtown Donelson." Now we're trying to retrofit and live up to that.
With regard to change, do you feel tension between new and original residents?
Yes, there is a small minority that believes we should stay the same. But if you want to make things better, you have to accommodate change. Then you have the people who ask, "Why isn't Donelson growing more rapidly?" Now, having been involved with the Donelson – Hermitage Chamber, and more recently NashvilleNext, I can answer those questions.
And what do you say?
The reason Donelson may not see as much growth is because we are a post-World War 2 community. Because of that, we have a density problem. When developers are looking at this area, they are looking for a profitable return. They need assurance that there will be people to support what they build. So what we talk about is infill and where it should go. Donelson has an incredible opportunity to preserve our historic neighborhoods, but there are also opportunities for growth. That's why I'm focused on the Downtown Donelson area to take advantage of the Music City Star. If we invest in infill here, then we'll get the restaurants and shopping that people say they want.
Moving forward, I am concerned though, that developers will only look objectively at the numbers and not what we've been able to do as a community. I would like for developers to also see what we have done with Hip Donelson and other efforts. That qualitative assessment may encourage investment.
If elected, it's that passion for his neighborhood that Jeff hopes to bring with him to the Nashville Metro Council. Jeff has put his name in the hat and based upon the evidence, is the favorite to win. Does he have what it takes? Perhaps. During our interview he arrived clutching a folder filled with reports about Donelson's land use, demographics, and planning vision; material of which he confesses he has studied backwards and forwards. He also claims to know the value of teamwork between the Mayor's office, and other neighboring council districts. He has started building coalitions with other possible candidates in Nashville's far-east council districts, and looks forward to working with the Mayor's office on initiatives to help Donelson. He also is able to think big picture. Simply put the guy is a visionary - leader. Two qualities that when added together, often breed success.
LESSON #3: HAVE A VISION, NOT JUST AN IDEA…BUT A VISION
What leadership qualities helped you in your past endeavors? What did you learn about yourself?
As a leader, you must have vision. You then must take that vision, and turn it into a workable plan. I've also learned that as you lead a community in the throes of change, that you're a visionary but you're also a doer. People also have to understand why we're doing something; they have to buy into the vision. I also know that I'm balanced, and a good listener. Those qualities served me well during my time as President of the Donelson – Hermitage Chamber.
Jeff, if you're elected into the Metro Nashville Council, what are you most looking forward to?
In addition to working for Donelson, I'm also excited to help grow the Music City brand. I've been on Music Row for over 15 years. So I think as we grow the Music City brand, we need someone from Music Row on the Metro Council. We're the international capital of the world in terms of music. So I'm also excited about Nashville embracing all musical genres. I'm also excited about the coalitions that I've been building. I've started building relationships now, so that if I'm elected I can hit the ground running and give one hundred and ten percent. I'm also excited to represent the place that I call home. That's the real reason I'm running. This is home. It's where I'm raising my son, and I'm happy to bring him along on this journey. So yea, I'm excited to get started.
The interview wraps around Phatbites' lunch rush. By this time the hard-core hip hop has settled into more radio friendly rap and pop. Jeff shares a few more thoughts about the deli and thanks me for interviewing him; but really the pleasure is mine. As an Urban Planner, it's not every day that we meet a real game changer in terms of civic involvement; someone who understands vision and acts upon it. As I drive away from Donelson I remember thinking, "yea this place is pretty hip", mostly because of what we can't see; the people working hard to make it a better place. So keep up the good work Donelson and Mr. Syracuse - and Nashville keep your pen and paper out, you just might learn something.